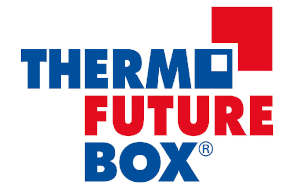 We have selected for you the range of isothermal containers (Thermobox) from the German manufacturer THERMO FUTURE BOX.
These thermoboxes are exclusively designed with a material called EPP (Expanded Popypropylene). So that you can easily find the Thermobox that suits you, we have classified the products by profession:


Restaurant and Catering
Baker
Ice-cream
Pizzeria - Delivery Service
Individual meal delivery solutions
Fruits & Vegetables
Logistics
Accessories
Why did we choose THERMO FUTURE BOX rather than another brand?
THERMO FUTURE BOX is a German company, on a human scale, located in Baden Württemberg. This region is known in Europe to be the "Silicone Valley" for the production of molds and products made from Expanded Polypropylene (EPP). It is therefore quite natural that THERMO FUTURE BOX was created in this region in 2001. The strengths of THERMO FUTURE BOX lie in constant innovation and the quality of their products. THERMO FUTURE BOX is at the origin of most of the novelties and designs of the insulated containers of the last 2 decades. Often copied, never equaled, the insulated containers from THERMO FUTURE BOX will surprise you with their technical details such as the ergonomic handles, the notches to catch gastro containers, the robustness of the closing systems of the front-opening containers ...
EPP is environmentally friendly and 100% recyclable
EPP is an expanded polypropylene foam (balls filled with air) produced without the use of halogenated hydrocarbons, CFCs, compounds containing lead, cadmium, mercury or chromium. the EPP foam particles do not emit any harmful gas and do not contain any water soluble substance (risk class 0).
EPP is tough and durable
The Thermoboxes produced in EPP are very resistant to shocks. They are light, waterproof (very low water absorption), withstand temperatures ranging from -40°C to 120°C max and benefit from very good thermal insulation.
They are resistant to most oils, greases and chemicals. They are hygienic, tasteless and odorless, suitable for contact with food and are washable.
Shipping costs
Thermoboxes are shipped within the European Union, only. The delivery costs of Thermoboxes and their accessories are free for any order of THERMO FUTURE BOX containers (and accessories) over € 1,500.