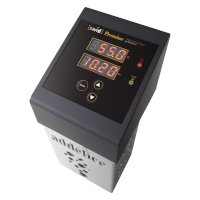 Since 2009 many Chefs, Caters, Delicatessens Caterers, Cooking Schools and Trainers in sous vide cooking have adopted the SWID for its simplicity of use, its exceptional technical specifications, its reliability, its competitive price and the after sale service.
How the SWID Premium works:
The SWID Premium is easy to use. Its two very bright screens allow the user to see, even from a distance, the most important parameters in sous vide: temperature and cooking time. All functions of the SWID Premium are controlled using only 3 buttons. Just turn on the SWID Premium, select the temperature and then the cooking time (countdown or clock) and ... that's it!
Accuracy, Stability and Power
The SWID Premium has the most sophisticated temperature measurement system on the market. Its platinum temperature sensor (Pt100 - 4 wires) ensures exceptional accuracy and longevity. In other words, your SWID Premium will never de-calibrate and its probe will never fail.
The temperature controller of the SWID Premium allows you to obtain a temperature stability of your water bath of ± 0,05°C both in an 8-liter pot and in a 58 litercontainer!
The SWID Premium, with its 2,400W, is the most powerful immersion circulator on the market. The components of the SWID Premium have been oversized to allow it to heat your bain-marie with a maximum capacity of 58 liters in record time.

Reliability and Guarantee
All the immersed parts of the SWID Premium are made of stainless steel, which ensures excellent durability.
The SWID Premium is guaranteed for 2 years parts and labor.
We guarantee a minimum repairability of 10 years of the SWID Premium.
| OPERATING TEMPERATURE RANGE | 25°- 95°C (77°F - 203 °F) |
| --- | --- |
| ACCURACY | Pt100 Platinum probe (4 cables) |
| STABILITY | ± 0.05°C (± 0.09°F) |
| POWER | 2,400 W |
| WATER BATH CAPACITY | from 8 to 58 liters max. |
| DIMENSIONS (W/D/H) | 124mm/190mm/268mm (4.9/7.5/10.5 in). |
| WEIGHT | 2.1 kg |
| MINIMALE D'IMMERSION DEPTH | 8.5 cm (3.3 in) |
The SWID is the perfect tool for restaurants but can also be used at home.
I am frequently using the SWID Premium and I am amazed by the results I am achieving. It is accurate, stable and reliable.
I use the SWID Premium for each of my training. It is compact, easy to transport and very efficient. I recommend it to the people I train.