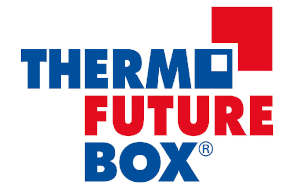 Thermobox designed to hold 3 standard ice cream containers 360 x 165 x 150 mm.
The lid has an inner space of 35mm height.
Large handles are located on the sides of the Thermobox for safe transport.
The top 4 corners of the Thermobox have special notches for easy opening of the lid. The lid is tight-fitting and has a place for a label.

Thermobox sold without the ice containers.

Options:
- 2 x Cold Packs -21°C GN 1/4,
- 90 mm height staking frame,
- 180 mm lid.
THERMOBOXES CAN BE SHIPPED TO EUROPE ONLY. THE SHIPPING COSTS ARE FREE FOR ALL ORDERS RELATED TO THESE PRODUCTS OVER € 1,500.
Designed in EPP (Expanded Polypropylene), the Thermo Future Box ICE BOX +3 is perfectly suited to transport 3 standard stainless steel ice cream containers (360 x 165 x 150 mm).
This Thermobox has a notch to insert a label.
Cutouts inside the container are specially designed for easy removal of the ice cream containers. A space is available between the 3 ice containers for a high performance cold pack type GN 1/4 (-21°C), sold as an option.
If required, the Thermobox can be combined with a 90 mm high Stacking Frame or a 180 mm high lid (options).
| OUTER DIMENSIONS | 600 X 400 X 260 mm |
| --- | --- |
| INNER DIMENSIONS | 3 x (360 x 165 x 150 mm) |
| LID INNER HEIGHT | 35 mm |
| VOLUME | 3 x 6 L |
| COLD PACK | 2 X GN 1/4 (-21°C) as an option |