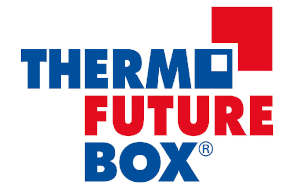 Trolley suitable for any GN 1/1 Thermoboxes or Frontloader containers with external dimensions 60 x 40 cm. This trolley is easy to handle, it has 2 wheels that can turn 360° and 2 unidirectional wheels.

Maximum transportable weight: 250 kg.
Trolley dimensions: 615 x 415 x 170 mm.
Weight: 3.5 kg.

Very sturdy in design, this cart is made with a high quality ABS frame and impact resistance. The chassis is equipped with 2 fixed wheels and 2 swivel wheels, each with a galvanized housing. The wheels are made of high quality plastic material (PP), equipped with ball bearings with wire guard to ensure long life. The trolley is very easy and quick to maneuver. The thermoplastic rubber tread ensures a comfortable and quiet ride, even on uneven surfaces, such as chippings. This transport cart has a load capacity of 250 kg.