Hot/cold insulating neoprene glove for cooking
Glove suitable for food contact.
Water tightness: full Neoprene coating of the glove
Smooth finish, embossed palm and fingers
Inside the glove: insulating terry lining (cold/warm)
Total length: 380mm
Thickness: 2.3mm
Black color
One size: L-XL (9-10)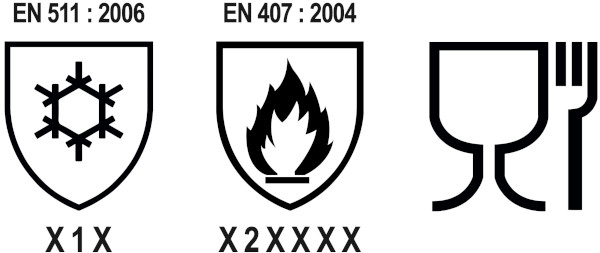 Thanks to its original lining structure this glove provides insulation and protection against heat and cold contacts.

- Level 1 cold contact: this glove can be used in the kitchen for handling frozen products and in the refrigeration industry, refrigerated warehouses, etc.
- Level 2 heat contact: suitable for heat contact transfer of 250°C for more than 15 seconds.
This glove also allows any manipulation in hot water and in particular the loading and exchange of baskets in the SWIP pasteurization tank or in an autoclave.



Practical uses:

- Cook, butcher, caterer, fishmonger,
- Handling in hot water (SWIP pasteurizer and autoclave...),
- Handling cold stores, frozen products...
- Stripping of plancha or grill with or without chemical stripper.

We found other products you might like!