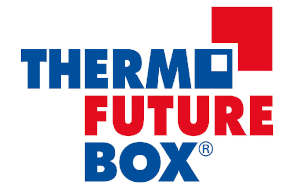 Our eutectic plates are cold diffusers allowing a constant temperature maintenance in your insulated containers or coolers. These plates are filled, not with water, but with a powerful eutectic gel. They do not contain glycol gel and are suitable for food contact.
These "cold packs" differ from those of our competitors because of their excellent energy performance and also because they are adapted to our range of THERMO FUTUR BOX brand containers.
You have the choice between 7 different sizes and three different temperature levels that you can adapt to your cold products according to your needs:
-3°C FRESH (for vegetables, cheese, milk and cakes).
-12°C COLD (for meat and fish).
-21°C FROZEN (for frozen products and ice cream).
THERMOBOXES CAN BE SHIPPED TO EUROPE ONLY. THE SHIPPING COSTS ARE FREE FOR ALL ORDERS RELATED TO THESE PRODUCTS OVER € 1,500.
Our cold packs are available in all common Gastronome formats (GN 1/1, GN 1/2, GN 1/3, GN 1/4) as well as in the 60 x 40 cm, EN 1/1, or mini 22 x 15 cm format. Thus, they fit perfectly into all Thermoboxes and Frontloader for gastronomy, butchery, bakery, pastry making, ice cream from the THERMO FUTUR BOX range.
| DIMENSIONS | ASSOCIATED PRODUCTS |
| --- | --- |
| Mini : 220 x 150 x 20 mm | |
| GN 1/4: 265 x 162 x 30 mm | Thermobox for ice cream containers |
| GN 1/3: 325 x 175 x 25 mm | |
| GN 1/2: 325 x 265 x 25 mm | |
| GN 1/1: 530 x 325 x 25 mm | Thermobox GN 1/1 and Frontloader |
| EN 1/1: 470 x 265 x 25 mm | Cooling plate buffet |
| All Around : 600 x 400 x 25 mm | |
The GN 1/1 and GN 1/2 cooling plates have guide rails over their entire length, making it easier to insert the cooling plates between two slightly spaced rails (or already occupied by a GN container) in the Thermobox.
Thanks to full cavity-free filling, the eutectic plates freeze evenly and can be placed in the freezer in any position, whether vertical or horizontal.
Our commercial grade cooling plates have a convenient carrying handle for sizes as from GN 1/3. During freezing or storage, you can stack all models with their spacers and thus save space.
The table below gives information on the temperature and freezing time of cold eutectic plates according to the type of plate. This information is given for information only.
Keep in mind that the optimum freezing temperature for a eutectic plate is approximately 6°C lower than that indicated on its cap.
| TYPE DE PLAQUE | RELEASED T° | FROZEN RECOMMENDED T°C | FROZEN TIME NEEDED |
| --- | --- | --- | --- |
| -3°C FRESH | 0°C to + 6°C | -18°C | 9h |
| -12°C COLD | 0°C to +4 °C | -18°C | 24h (or 16h at -22°C) |
| -21°C FROZEN | -21°C to -15°C | -27°C | 24h |
Once frozen, the eutectic plates are sensitive to shocks, handle them with care.
Position your cold eutectic plate in the upper part of your insulated container (the cold goes down).

CAUTION: do not expose cold eutectic plates to temperatures below -45°C or above 50°C. Otherwise it would alter their cooling power.

We found other products you might like!