Thermobox Frontloader 128 liters Trays 60/40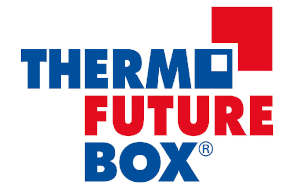 Front loading EPP insulated container (FRONTLOADER) for 60x40 plates and trays and a 146 liters capacity.
This Frontloader has 11 rails of 35 mm or 7 rails of 60mm height (optional).
Possibility of adding (as an option) a cold or hot pack perfectly adapted to this Thermobox (60x40 trays).
Handy grips on 4 sides.
Romovable door and stainless steel fasteners.
Non-contractual pictures: the Frontloader is sold without a plates or trays.
THERMOBOXES CAN BE SHIPPED TO EUROPE ONLY. THE SHIPPING COSTS ARE FREE FOR ALL ORDERS RELATED TO THESE PRODUCTS OVER € 1,500.
Made of EPP (Expanded Polypropylene) this Thermobox, with front loading, is suitable for transporting 60x40 plates or trays. This container is light and its handling is facilitated by its large 4 sides grips. The 128 liter FRONTLOADER Thermoboxes are stackable and can be put on a specific 60x40 trolley. To obtain more information about the cold and hot packs please click on the following links: HOT - COLD.
| OUTER DIMENSIONS | 740 x 540 x 685 mm |
| --- | --- |
| INNER DIMENSIONS | 615 x 410 x 580 mm |
| VOLUME | 146 Liters |
| WEIGHT | 6.3 Kg |
| HINGES AND FASTENERS | Black hinges, removable. Stainless steel fasteners. |
| OPTION with 35 mm RAILS height (11 x rails) | Usable height between 2 plates or trays: 35 mm + 15 mm = 50 mm high |
| OPTION with 60 mm RAILS height (7 rails) | Usable height between 2 plates or trays: 60 mm + 15 mm = 75 mm high |