Thermobox Pizza frontloader Bike & Scooter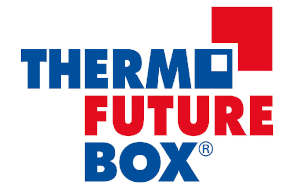 This 100 L pizza frontloader is perfectly designed for bikes and scooters' deliveries. It is lighter (4.6 kg), better shock resistant, and better insulated compared to plastic delivery boxes.
It is suitable for hot (pizza) but also cold food (fresh salad, cold drinks...). An EPP shelf is included to isolate, if necessary, different temperature ranges (hot & cold). Additional shelves or insulated pizza boxes (square 420 x 420 mm) are available separately and will perfectly fit inside this 100 L thermobox.
Printed Advertising panels are not sold with the thermobox. Should you want us to print for you the advertising panels, please feel free contact us. For this service additional costs may apply.
Materials: PPE (Expanded Polypropylene), 100% recyclable.
Designed and made in Germany.
THERMOBOXES CAN BE SHIPPED TO EUROPE ONLY. THE SHIPPING COSTS ARE FREE FOR ALL ORDERS RELATED TO THESE PRODUCTS OVER € 1,500.
This bike and scooter delivery box has a robust plastic hinges and can be easily opened and closed from the front. Any Pizza cartons, bags or other thermo boxes up to an outer size of 48 x 48 cm can be stored directly in the frontloader. The door can be locked with a key for the duration of delivery.
The box is equipped with 5 removable frames that can be removed from the outside and can hold your printed advertising panels.
PIZZA FRONTLOADER DIMENSIONS
| OUTER DIMENSIONS | INNER DIMENSIONS | VOLUME |
| --- | --- | --- |
| 600 x 580 x 570 mm | 490 x 490 x 415 mm | 100 Liters |
Add-ons BOXES square 42 cm for Hot (Pizza) or Cold

| OUTER DIMENSIONS | INNER DIMENSIONS | VOLUME |
| --- | --- | --- |
| 480 x 480 x 190 mm | 420 x 420 x 122 mm | 21 Liters |
| 480 x 480 x 265 mm | 420 x 420 x 197 mm | 35 Liters |